You Deserve to Live
an Active, a Quality, a Purposeful, a Fulfilling

Life.
Live Life the Way
It's Meant to Be Lived
We believe there's an opportunity to live a life in which we become our finest, most authentic selves. For each of us to become who we were meant to be. To accomplish everything we were meant to achieve.
Friends Fellowship Community is here to help you make it happen.
A Rich, Purposeful Life
We're enthusiastic in our belief that community living leads to a better quality of life for countless older adults.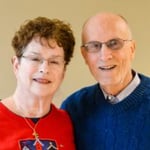 - Dr. Howard & Sue Deitsch, Residents
"We moved to Friends Fellowship for the sense of friendship and community! Life is much simpler now that we have gotten rid of 45 years of house "stuff"! Repairs are done with one call. Explore the possibilities and start downsizing now."
Get our latest news, updates, and resources delivered right to your inbox.